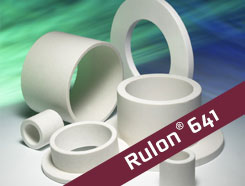 Rulon® is one of the materials that we are asked about most often. While there are over 300 unique formulas of this material, today we'll review some of the most-common formulas. No matter which formula your application requires, you should expect a versatile, self-lubricating, and low-friction material for bearings, seals, gaskets and structural components.
There are literally hundreds of variations of Rulon, but in our experience, the most popular are Rulon® 641, Rulon® J, and Rulon® LR. Each offers slightly different attributes, yet all have delivered superior results to our clients.
For more details and technical specs on the materials below, our Rulon Comparison Chart is a great resource!
Rulon 641

FDA-cleared for use in food and pharmaceutical applications, Rulon 641 is an excellent material for seals in pumps and valves. It is able to withstand the sanitation washdowns required of food and drug processing.

Rulon J

Provides the lowest coefficient of friction of any filled-PTFE bearing compound. It also offers good wear properties against soft mating materials.

Rulon LR

The most-commonly used material for general purpose applications. It is chemically inert and with excellent dielectric properties, maroon in color.
Have you downloaded your free copy of our Rulon White Paper? It provides a quick review of the top manufacturing controls to embrace ― and the pitfalls to avoid ― when selecting true Rulon materials for your next application.