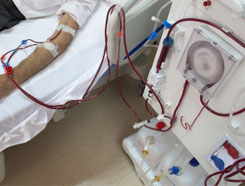 Self-lubricating bearing material receives USP Class VI compliance
We are pleased to announce that Rulon® 1439 ― an excellent seal and bearing material for medical and pharmaceutical processing ― is now fully-certified for use in medical device disposables, according to the United States Pharmacopeia (USP). USP is an independent public-health organization committed to purity testing for medicines, food ingredients, and dietary supplements. Here's why USP certification is important for medical bearing materials.
This new USP certification provides added assurance to medical manufacturers that Rulon is one of the safest compounds on the market. One common application for Rulon seals is on a metering pump located on a kidney dialysis system. Rulon provides a soft seal that can:
Resist moisture and caustic chemicals
Run against the machine's ceramic shaft
Provide compatibility with all CIP solutions
Provide for very low friction and longer wear
Beyond medical and pharmaceutical uses, Rulon is also FDA-compliant for food and beverage processing applications.
Want to explore the advantages of Rulon seals in your application? Just Ask our Experts ― and stay tuned to our blog for information on a new Rulon technical white paper!