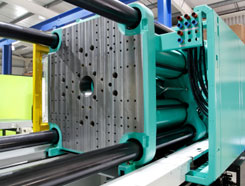 It's the start of the frenzied shopping season and retailers are revving into high gear. But for the manufacturers of Rulon injection molding components and plastic bearings, the production lines have been running all year in anticipation of this annual surge in demand. In fact, Rulon 945 molding components and Ultracomp bearings have kept the manufacturing lines running ― while also improving productivity and lowering costs.
Here's how:

Rulon replaces polyimide on injection molding nozzles:
Our partner, a leading maker of injection molding equipment, reported that the polyimide nozzles used to form their plastic parts began to flake and peel onto the newly-molded parts. The plastic residue that was left behind caused a high level of waste, as well as exorbitant nozzle replacement costs.
Our engineers recommended Rulon 945 as a replacement option for the polyimide nozzles. With a temperature range of -400° to +550° F, Rulon 945 remains dimensionally stable and eliminates plastic accumulation around the nozzle. Learn more about this unique application.
Ultracomp replaces bronze on conveyor systems:
We replaced bronze bearings with resilient Ultracomp on the production lines of what has been called the "Toy of the Century." When our client needed a strong bearing that could resist friction and vibration on their conveyors, Ultracomp delivered. The self-lubricating material works well against the line's stainless component and eliminated grease from leaking onto the formed parts.
Want to explore more real-world applications? Subscribe to our monthly technical brief to explore the latest tips.