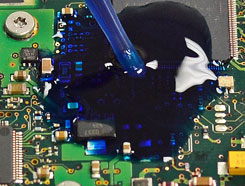 Bonding plastics can deliver significant manufacturing benefits and improve the durability and performance of materials. The term "bonding" refers to both the adhesive of one part to another, and the thin coatings or thick layers of adhesives, overmolding or potting resins that are bonded to a substrate. Plastics can be bonded to other plastics, as well as to virtually any other material; wood, metal, glass, and ceramics are all common examples. But there are two prerequisites to securing a superior bond. You must match the right adhesive to your application, and thoroughly clean and prepare the part(s) being bonded via surface modification.
Generally speaking, plasma surface modification is the preferred method of cleaning and preparing parts. Plasma is an efficient and earth-friendly process that offers the advantage of complete, 3D coverage to eliminate the risk of any void in the bonding process. It also provides a longer lifespan than corona, photolysis, and parylene surface modification techniques.
Here's some of the bonding benefits our industrial partners have realized with plasma treatment:
Medical:
Minimizing bubble formation on syringe barrels
Eliminating stick/slip properties on syringe plungers
Optical:
Cleaning of devices prior to coating or assembly
Improving the adhesion of lubricous coatings on intraocular lens cartridges
Diagnostic:
Promoting hydrophilicity on microtiter (multi-well) plates
Building hydrophilicity without the need for surfactants on filter media
Injection-molded devices:
Increasing the adhesion of overmolded materials
Enhancing the adhesion of labels or gaskets on cans and lids
Printing:
Improving the adhesion of water-based inks in screen printing applications
Want to learn more about the benefits of plasma treatment and Surface Modification? Download your free copy of our Surface Modification White Paper How Low-Pressure Plasma Treatments Can Benefit your Manufacturing Process.